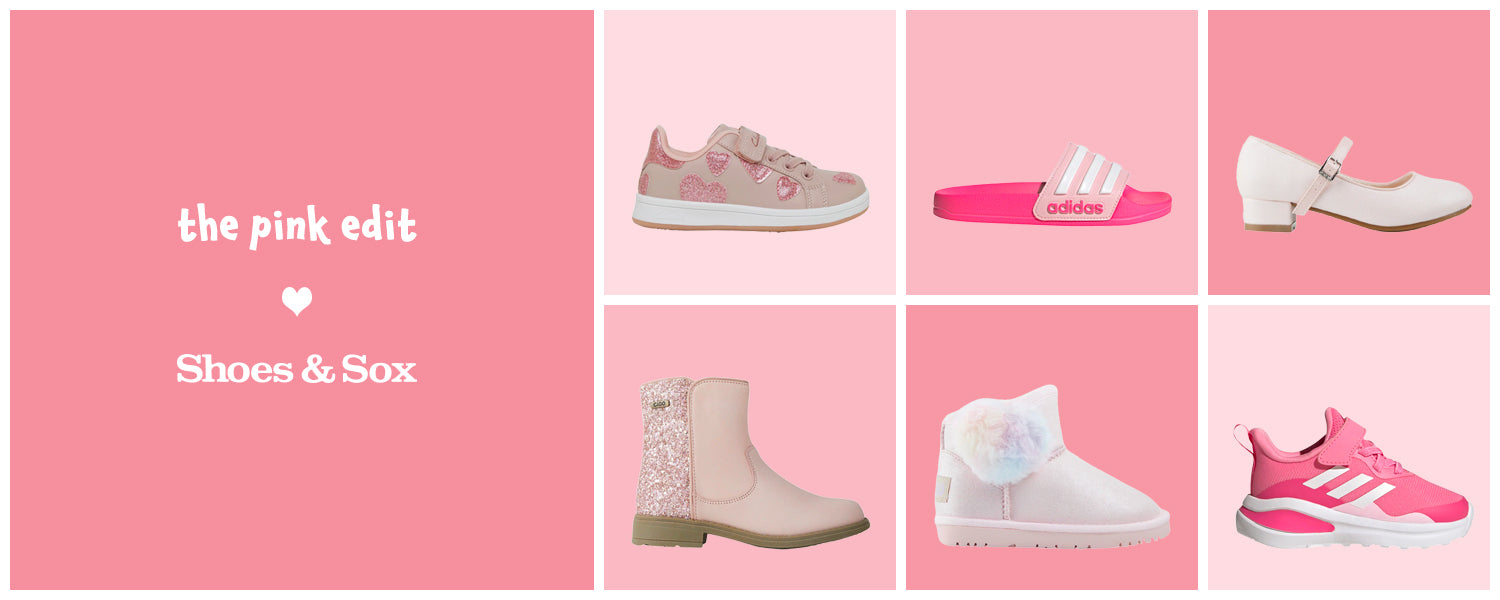 With exciting news in the movie world this month, we've got the perfect shoes to complete every pink outfit! In this Pink Edit we've got all categories of your favourite kids shoes styles - from kids sneakers to boots, slippers, sandals and more!
Perfect Pink Sneaker 
Clarks Dizzy has it all inside and out. On the outside, it's pink with glitter and hearts and inside, a dual-fit system designed to maximise comfort with the added benefit of longevity in the shoe, this shoe is a standout!
Perfect Pink Boot 
The dazzling Ciao Gitty Boot upper combined with leather provides a breathable, durable, comfortable yet eye-catching design. The sparkle moulded heal counters provide stability and style! A must-have for all wardrobes this winter. 
Perfect Pink Gumboot
For the little ones who love to get out and about when it starts to rain the Ciao Calli Heart Gumboot is ideal! It's where functionality meets style to protect little toes and keep them splashing and jumping all day. Did we mention they light up with every stomp? 
Perfect Pink Slipper
Looking for the perfect pink slipper? The Ciao Frosty Heart is as warm as they come! Soft and flexibly lined with a TPR outsole for increased traction and durability. They start at a European 23 and go to size 40, did somebody say "mini-me?".
Perfect Pink Sandal
The Sun-San Sweetheart Sandal is the perfect sandal. Whether you're heading to Europe to escape the winter or the Gold Coast, this sandal – HAS. IT. ALL. Some of its many features include an open, breathable back, secure buckle closures for adjustability, and leather, breathable uppers.
Perfect Pink Beach 
 Adidas Adilette Shower is the perfect shade of pink for the beach or pool! With a relaxed feel and quick-drying uppers – they're perfect for water! 
Perfect Pink Sport Shoe
Yeah, the Adidas Fortarun are pink but they're so much more! Breathable, flexible, durable, self-fastening, adjustable, cushioned and the list goes on! Looking for a supportive and stylish sports shoe, here it is! 
Perfect Pink Party Shoe
Taking "let's go party" to the next level with Miss Candy Lana. A slight heel and subtle shimmer in these beautifully detailed party shoes!
FIT TIP: They do run big, so it is recommended to stick with the measured size. 
Looking for more options? Check out our entire range of Pink Kids Shoes here!