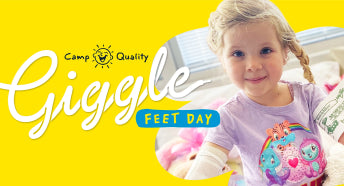 With so much choice and the astonishing speed at which little feet seem to grow, we know why it's tempting to opt for cheap, disposable school schools. But there are many reasons why you're better off investing a little more at the outset and reaping the rewards in the long run.

"I absolutely believe in the importance of investing in quality kids school shoes. Brands such as Clarks, Bobux, Pablosky and Harrison have proved themselves to be superior to me both as a parent and a business owner," says Lisa Shalem, Executive General Manager of Shoes & Sox.

"Quality kids sports shoes are just as vital for the health of growing feet. You just can't go past the research and technology that goes into Nike, Asics and Adidas. They're looking at what kids need, as well as what they want."

Here are our top five reasons why quality footwear is the better choice for growing feet.

1. Quality brands research function as well as form
Good design balances form and function, and quality brands do in-depth research to achieve this balance. A lot of technology goes into the design and manufacture of good shoes and when you choose a quality shoe, you're buying into years of research and testing too.

New Zealand brand Bobux study the varied movements of children in action and apply this to podiatry-based knowledge to design their kids school shoe range. They also seek parental advice to tweak the function and incorporate kid-friendly features such as elastic closure systems.

Bobux's design offers a balance between offering kids protection from the elements and freedom for their little feet to roam as they would without shoes. Bio-mechanical studies show that allowing feet to go through the full range of natural movement as they would during barefoot running builds strength and reduces injury. Bobux incorporate this knowledge into their design. They also study how kids use their shoes, and they design and build kid-specific 'lasts', the shoe-industry term for the 3D model that forms the basic fit of a shoe. While a lot of shoe companies simply scale down adult lasts to children's sizes, quality companies such as Bobux design their own lasts based on the various stages of children's foot development – whose shapes and structures are very different to adult feet.

Stalwart brand Clarks incorporate several clever design elements (cushioning, waterproofing, grip, lightness, softness, flexibility, breathability) into their leather kids school shoe ranges. Clarks have specific kid-friendly design features such as removable innersoles in their sports range to allow for growing feet, anti-scuff features, a hi-poly foot-bed to reduce odour, and the number one selling 'Daytona', which comes in 184 sizes, in a length and width for everyone.

Similarly the design and manufacture process behind Spanish brand Pablosky guarantees every one of their shoes contains each of these specially developed in-house technologies: a bovine leather outer, their breathable, absorbent and fast-drying 'Intech' inner lining, heel and toe guards, absorbent, antibacterial insoles and non-slip rubber soles which ensure flexibility, shock absorption and grip.

2. School shoes are not sports shoes
As bouncy as your kids might be in a normal day, their feet are doing different things when they're participating in dedicated sports activities. As such there's also a difference between the technologies that go into school and sports shoes. Brands such as Nike, Asics and Adidas incorporate specific design elements into their shoes to anticipate and absorb impact, and protect your kids' feet from hard landings on courts, tracks and fields!

Asics GEL Noosa and Asics GEL Kayano kids sports shoes have 'FlyteFoam' technology in the mid sole which offers super cushioning with less weight (they say 55% lighter than the industry standard). The fibres in these Asics mid soles also bounce back quickly after each stride, enhancing the durability and lifespan of their shoes.

Nike extensively research how the body moves and evaluate how their shoes work, feel and wear with rigorous testing that pre-empts how their kids sports shoe ranges endure the wear and tear of a school day. They also incorporate specific technologies into their shoe designs. For example, Nike Air cushioning is like a little pillow that works to cushion the foot by compressing and absorbing the force on impact and immediately recovers its original shape, ready for the next impact.

The segmented grooves in the out-sole of the Nike Free sports shoe simulate the natural pressure patterns of a barefoot landing giving your kids the benefits of barefoot running without actually being at school barefoot!

3. They'll last, and last
Putting aside insider shoe industry jokes, if you buy quality shoes and care for them properly (see our care tips below), your kids' school and sports shoes should last until they grow out of them. Buying from a reputable retailer also means you'll be well cared for should any issues arise.

4. You'll Help Save the Planet
We're all aware of the problems associated with 'fast fashion' (cheap, disposable apparel), so there's a lot to be said for the positive environmental effects of investing in quality, long-lasting footwear.

The leading brands go one-step further by also investing in eco-manufacturing processes. This year Adidas revealed it has sold over 1 million sneakers made from reusable plastic intercepted from the ocean since it began the initiative in 2016. The production of one pair of Adidas x Parley shoes prevents approximately 11 plastic bottles from entering the oceans.

Similarly seventy-one percent of Nike's footwear now contains materials made from ground-up shoes and scraps. Both companies also use a water-less dying process, saving millions of gallons of water and 50% fewer chemicals and energy in the process.

5. Good design is made to be comfortable
Well-designed shoes won't need to be broken-in because they're designed to be comfortable! If your child is experiencing discomfort while trying on in-store it's likely it's not a good fit and is unlikely to improve with use. See our Size Guide for more detail on buying the correct size.

Our last hint - check out our Product Care Guide for tips on how to keep your shoes looking top notch for longer!