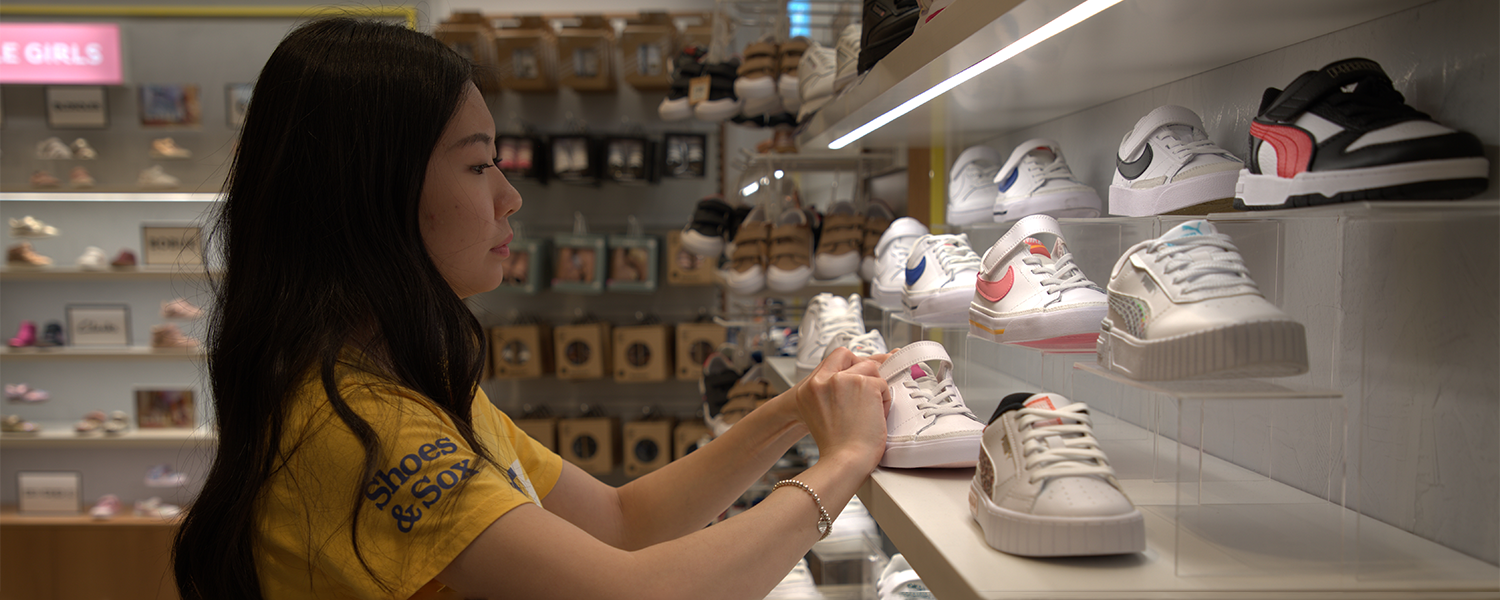 Once you've chosen to invest in quality kids school shoes it's important to also invest time into caring for those shoes. Proper cleaning will ensure that your investment lasts until your child has (at least) outgrown their shoes and not the other way around! As a general guide, always follow product instructions and don't wash shoes if they say they're un-washable (really, don't). Stuffing them with old newspapers can help them keep their shape, and don't ever dry them under a heater as leather will crack and canvas will crumple and lose its shape.

School Shoe Care Tips:
• Protect them from the get go. As soon as you take your shoes home, give them a thorough spray with a leather protector to protect against stains and scruffs.
• We recommend you use polish to regularly hide the scruff marks and keep your school shoes looking new. Always put newspaper down when polishing shoes to protect your workspace and always let shoes dry naturally (do not apply heat).
• No matter what, laces will wear and tear. You can purchase laces from most shoe repairers and discount department stores.
• Self-fastening straps will get fluff, sand and other bits stuck in it. Our 2 main care tips are: Don't leave the straps lying open, always close the straps as this will reduce the amount of lint & fluff that gets stuck. To remove the fluff and other bits, use an eyebrow comb, toothpick or tweezers

Sports Shoes
• Athleisure shoes, such as Nike Tanjun, are not proper sport shoes and will not stand up to the day-to-day or heavy sport activities of children as best as a proper sport shoe will.
• If the shoes start to harbour a bad odour, sprinkle some baking soda inside the shoe, let it sit overnight, and tip out in the morning. The baking soda acts to absorb the smell so it is not as offensive.

Leather Shoes
• Use a damp cloth to remove dirt and air dry away from a heat source or direct sunlight.
• Apply a good quality crème or polish (we don't recommend liquid polish. Use one that contains oil to restore moisture to the leather and give the shoes a bright, shiny sheen. Apply polish sparingly (less is more). You don't want excessive polish to build up and crack on the shoe over time. Polish every two weeks.
• Try beeswax to prevent watermarks during rainy weather.
• Let the shoes air where possible, thus preventing a buildup of sweat to decrease the likelihood of a very smelly shoe.
• Leather shoes with a finish on top, such as silver, are expected to scuff on wear, there is not much to prevent this from happening
• For suede shoes, spraying on a good waterproofer is best to protect the leather from the elements and increase the longevity of the shoes

Canvas Shoes
• Read the label. If they are machine washable, wash on a gentle cycle and air-dry.
• If not machine washable, give them a simple soap and water bath with a soft bristle brush to remove the dirt, and air dry away from a heat source or direct sunlight.
• To whiten white canvas try a homemade solution of one tablespoon of baking soda and two tablespoons vinegar, diluted in a cup of warm water, worked into the shoe with a toothbrush or dry bristle brush. Brush off the baking soda once dry, then wash again as before if needed. Gumption or toothpaste can also work to bring the canvas back to a nice white.

Party or Weekend Shoes
• Party shoes, such as Candy mary-janes and Walnut ballet flats are not everyday shoes, and if worn everyday, could result in the glitter or rhinestones falling off. Keeping these to special occasions or weekend wear is best.
• For Skechers Twinkle Toes, some of the styles have an on/off button, so if the lights on one or both shoes are not working at some point, check to see that this button has not accidentally been pressed.
General Care Tips:
• As part of caring for shoes, it's important to take into consideration any specific activities your child is partaking in, as some activities can wear the shoes away a lot faster. For example, when learning to scooter, most kids use their toes to break. The constant friction this creates can cause the toe area of your child's shoes to wear away quite quickly. Opting for a shoe with a rubber toe can prevent this, as it is a more ideal material to withstand this friction. This is great to keep in mind for school shoes as well, as the school shoes with a toe guard at the front will prevent holes in the front of the shoe from the day-to-day activities kids engage in.
• Taking shoes off and putting shoes on correctly will ensure that the heel counter at the back of the shoe, that helps to provide support, stays in tact, and is not bent out of shape. Laces and velcro shoes should be undone after every wear to put the shoe on and to take the shoe off.