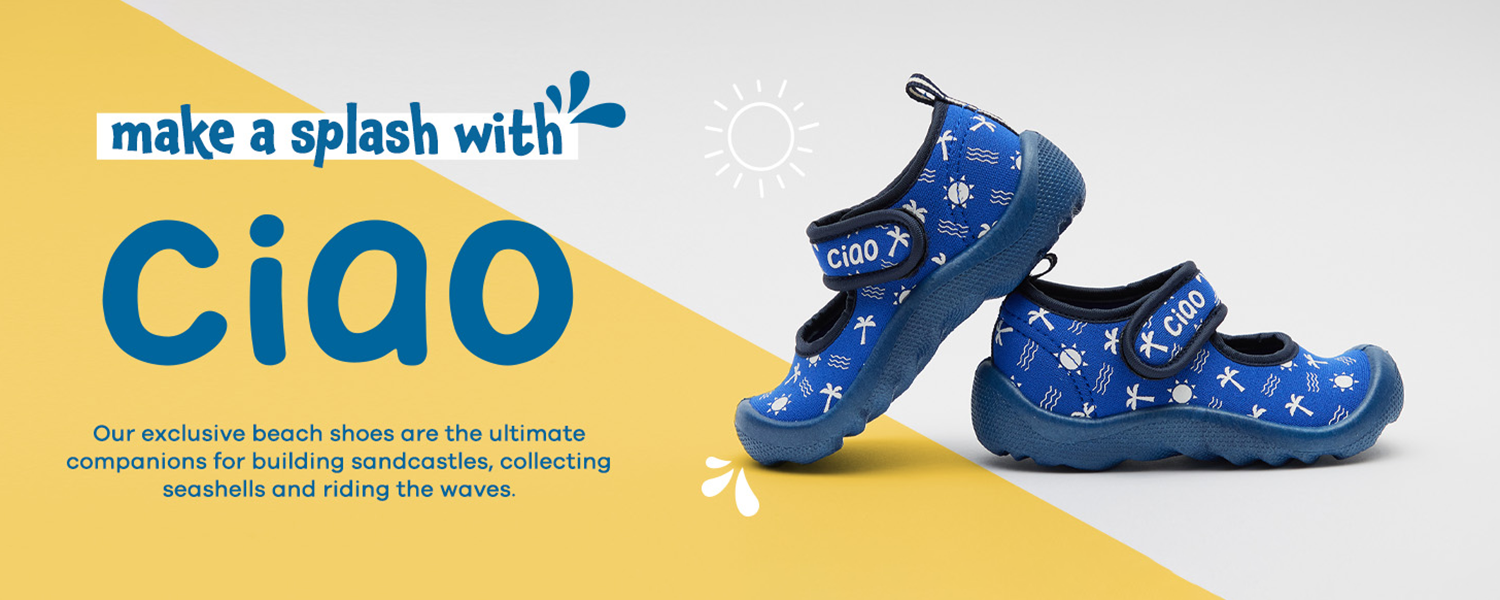 A much loved summer staple, our super-popular Ciao Beach shoes are back as the weather starts warming! In a range of super cute colours and patterns, and sizes 20-30 EU (that's 4-12 UK!), it's no wonder this shoe has been popular with kids and their grown-ups alike year after year. But let's dig deeper! What exactly makes the Ciao Range the best beach and water shoe for kids?
One of our favourite features of the Ciao Beach Range is that they are made for the water. This doesn't just mean beach wear though; the neoprene upper makes this shoe quick to dry and washing machine safe! That's right, spills, nasties, and accidents begone – throw this shoe straight in the wash and they're good as new.  
The Ciao Beach Range is also perfect for little feet as they are designed with toddlers in mind. The Ciao Beach shoe is deep, stretchy, and flexible to fit toddler feet and provide the perfect level of freedom needed as their feet continue to develop. Forget the days of wrestling shoes onto their feet – our Ciao Beach styles feature one self-fastening strap and a heel tab for an easy slide on and off. Also featured is a rubber toe bumper to protect their toes when they're out adventuring, making this shoe perfect for preschool, the playground and plenty more.  
In short, we love these shoes - but don't just take our word for it. Our customers love them too!  
These shoes are very durable, good for kids going to daycare, at the beach. Easy machine wash and they keep their shape. – Tanoa, QLD 
These shoes are the only style my son will wear. So comfy for his feet & easy to run around in, plus easy to wash is a bonus. – Laura, QLD 
Water you waiting for? Beat the heat and pick up a pair (or three!) of Ciao Beach shoes here, or head in-store for a fitting.